Super Mario RPG: Legend of the Seven Stars Encyclopedia Entries
The Super Jump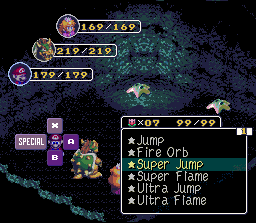 Name: Super Jump
Classification: Magic
Sub-classification: Jump
Character: Mario
Required Level: 7
Magic/Attack Rating: 45
Flower Points: 7


Description: The Super Jump is a step up from the regular Jump attack. Mario will learn this spell at level 7, around the time you fight Mack or Pandorite (the first box monster). The purpose of the Super Jump is that every time you do a timed hit with it, it will hit an enemy another time. The Super Jump is very effective against such creatures like the Box Monsters (Pandorite, Box Boy, etc.), Heavy Troopas, and Dry Bones. Another purpose for the Super Jump is that if you get 30 jumps, you will receive an Attack Scarf. At 100, the max amount of times you can Super Jump an enemy, you will get a Super Suit. To see if you are worthy of one or both of these gifts, consult the Chow in Monstro Town. For more help on Super Jumping, view our Guide on Super Jumping.


Link to us!