Super Mario RPG: Legend of the Seven Stars Encyclopedia Entries
Remo Con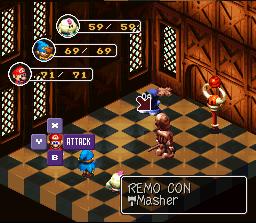 Name: Remo Con
Classification: Enemy
Sub-classification: Animated Object
EXP: 8
First Met: Booster Tower
Inhabits: Booster Tower, Gate (Smithy's World)
Hit Points: 88
Flower Points: 13
Special Attacks: Eerie Jig (Body Altering - scarecrow), Body Slam (Physical damage)
Psychopath: "The world is history."


Description: Another necromatic act of Smithy or his followers, the Remo Con is an animated marionette (puppet on strings). Neglected by most because of their idiotic appearance, Remo Cons have been adopted by Booster, who apparently thinks they are funny. Their creator has given them resistance to two kinds of elemental damage, snow and lightning. On the other hand, fire can really heat up their wood/armor covering and make them uncomfortable... Many people believe that they are simply mindless and evil drones, but experts have classified them as being pretty intelligent. They are, however, aggresive and their Body Slam technique can hurt an unexperienced adventure badly. It is a good idea to give them a wide birth should you encounter one. Timed hits are good for destroying these creatures, and might earn you a "lucky" so you can play the Yoshi egg game. These creatures carry around 7 coins for you to pick up after they are vanquished.


Link to us!